1. How is biosecurity different from biosafety?
"Keeping bad bugs from good people"
Includes containment principles, techniques, and procedures that prevent unintentional exposure to pathogens or toxins, or their accidental release
Term used consistently across human, animal, and plant health sectors
International standards are not mandatory; regulations set at the local level or by laboratories
"Keeping bad people from bad bugs"
Includes measures designed to prevent and prepare for the deliberate misuse of biological agents or biotechnology
Term different in human, animal, and plant health sectors
Domain of the arms control, security, or intelligence communities; regulations set at the national or international level
Both Concepts:
Aim to keep dangerous pathogens properly contained by authorized users to prevent injury, loss of life, or damage to the environment
Include hiring and training scientists and other personnel who understand the importance of biosafety and biosecurity procedures
Include training programs as part of partnerships between developed and developing countries
Contain overlapping and complementary requirements with international instruments, such as the International Health Regulations (IHR)
2. What does effective biosecurity require?
What does effective

Biosecurity

require? Risk Threat Assesment Detection, Surveillance
& Diagnostics Personnel Security Physical & Material
Security Preparedness, Mitigation, &
Emergency Response

(click on the icons to learn more)

Obtaining data on potential threats and analyzing the risk of an incident to determine the value of additional security measures. This includes:
Registration and licensing of facilities that work with dangerous biological agents
Monitoring the development and trade of dual-use technologies
Intelligence operations to identify individuals and groups interested in biological terrorism
Monitoring and investigating natural, accidental, and deliberate outbreaks of disease. This includes:
Building capacity in the human, animal, and agricultural sectors to detect and diagnose infectious diseases
Information sharing among public health authorities and between governments when an unusual pattern of disease is detected
Ensuring that only appropriate personnel have access to pathogens and that they do not abuse that access. This includes:
Background checks on laboratory personnel
Oversight of life sciences research to reduce risks posed by dual-use research of concern
Training and education for scientists to help them understand the security implications of their research and counter insider threats
Prevent the removal of material for non-official purposes. This includes:
Protective measures to deter and thwart unauthorized access to materials
Accounting practices to document the type, quantity, and location of materials
Controls on transfers of dangerous pathogens
Planning for how to respond to disease outbreaks and epidemics in the event preventive measures fail. This includes:
Developing policies that detail decision-making procedures and the roles and responsibilities of relevant agencies and law enforcement entities in emergency situations
Putting in place effective communication systems
Ensuring diagnostic laboratories are adequately supplied
Developing treatments and treatment protocols
3. What is the role of governments in biosecurity?
National governments are responsible for setting, regulating, and enforcing policies for how scientific research is conducted. When developing such regulations, it is important to consult with and incorporate the views of the scientific community to ensure that regulations provide increased security without unduly impinging upon continued scientific progress.
Creating and implementing biosecurity policies is complex and involves a large number of stakeholders. For example, in the U.S. numerous federal agencies are responsible for different elements of biosecurity.
4. How is the international community cooperating on biosecurity?
Individual states have historically determined their own policies in conjunction with their respective scientific establishments. In recent years, however, states have begun to acknowledge that any breakdown in biosecurity may have transnational ramifications, and international organizations and other cooperative initiatives strengthen biosecurity and lay the groundwork to counter biological threats.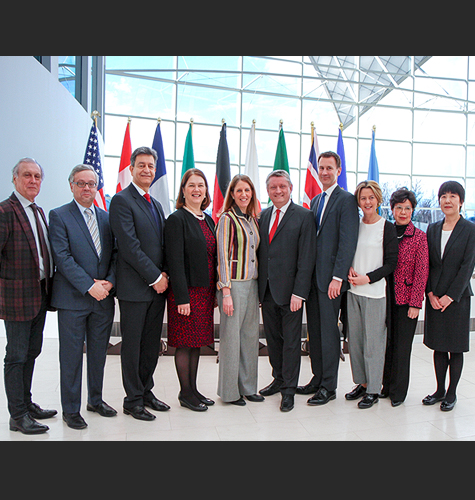 1. Global Health Security Initiative
The Global Health Security Initiative is an informal multilateral arrangement among the nations of the G-7, plus Mexico and the European Union. The World Health Organization holds an expert advising role. The GHSI was created after the September 11, 2001 terrorist attacks to better coordinate efforts to strengthen global health security and prevent biological terrorism. These efforts include joint procurement of vaccines, improved linkages between research laboratories, and improved disease surveillance. Member countries' health ministers meet annually to discuss these goals.
Photo: National Ministers of Health at the 2016 Global Health Security Initiative Meeting | Photo Credit: U.S. Department of Health and Human Services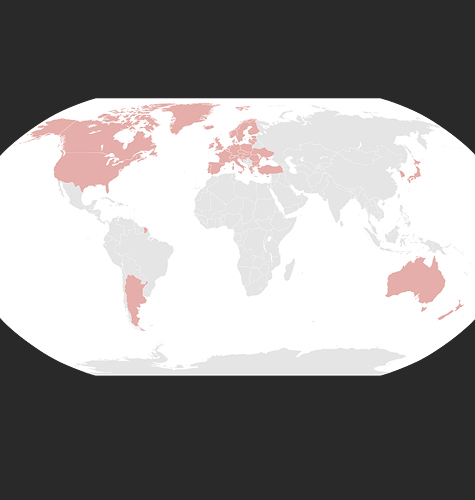 2. Australia Group
The Australia Group is an informal forum of 42 countries who seek to "harmonize" their export controls on dual-use materials and equipment that could be involved in the production of biological weapons. The Group establishes "common control lists," and its members deny export license requests for items on the lists when there is a concern that the items will be used in a biological weapons program.
Image: The 42 countries of the Australia Group | Credit: Derfel73; Canuckguy et al. via Wikimedia Commons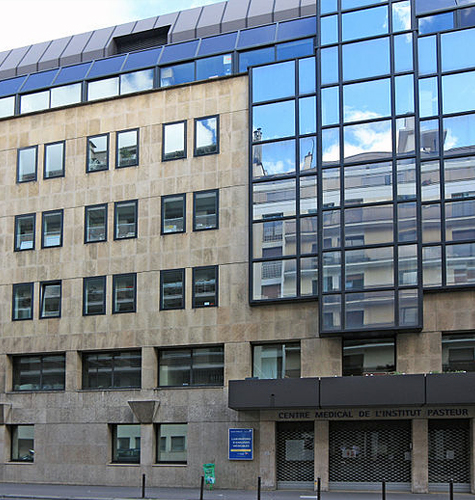 3. Global Biological Research Centre Network
The Global Biological Research Centre Network (GBRCN) is an initiative by the Organisation for Economic Co-operation and Development (OECD) to increase biosecurity by implementing common standards and a security-minded code of conduct at biological resource centers (BRCs) around the world.
Photo: The Pasteur Institute in Paris, France | Photo Credit: Edal Anton Lefterov via Wikimedia Commons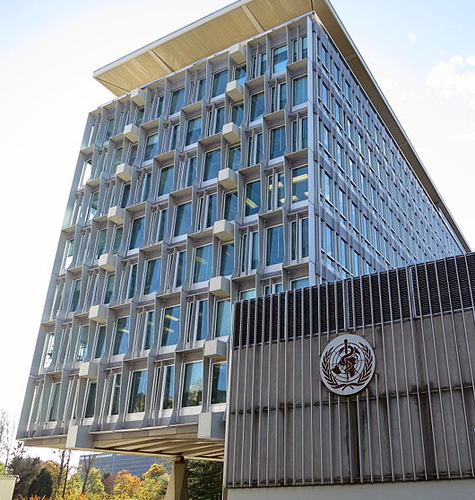 4. WCO/INTERPOL/WHO
The World Customs Organization and INTERPOL share information to combat the smuggling of biological materials, while the UN's World Health Organization helps countries improve their public health response and biosecurity capacities.
Photo: World Health Organization Headquarters, Geneva Switzerland | Photo Credit: Thorkild Tylleskar via Wikimedia Commons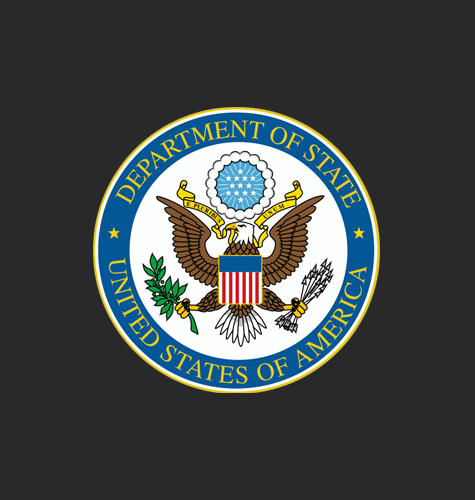 5. U.S. Biosecurity Engagement Program
The BEP is funded by the U.S. Department of States's Bureau for International Security and Nonproliferation. BEP helps organize training in foreign countries to promote biosafety and biosecurity best practices.
Image: Department of State logo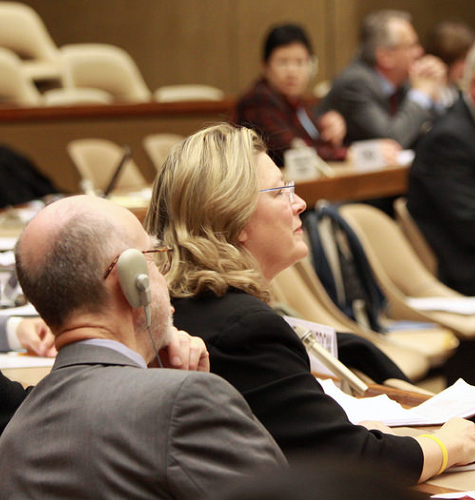 6. Biological Weapons Convention Intersessional Process
The States' Parties to the Biological and Toxin Weapons Convention (BTWC) hold intersessional meetings yearly and review conferences every five years to discuss political and scientific developments of relevance to the BTWC.
Photo: Delegates to the Conference of States Parties to the Biological Weapons Convention | Photo Credit: US Mission Geneva via Flickr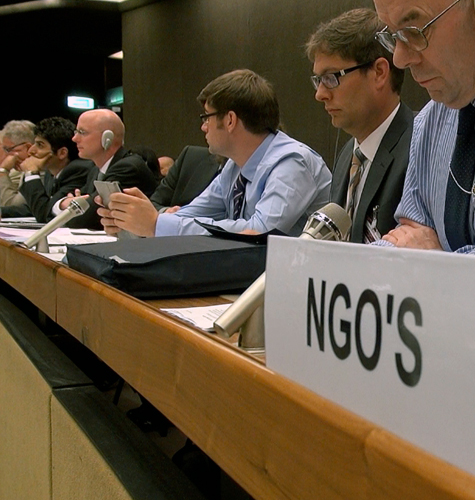 7. Non-Governmental Organizations
NGOs have organized several international fora on biosecurity. For example, NTI's Connecting Organizations for Regional Disease Surveillance (CORDS) project brings together regional authorities, the World Health Organization, and other global partners in health security to share best practices.
Photo: Civil Society Participants at the BTWC Meeting of Experts | Photo Credit: United States Mission Geneva via Flickr
Photo Credit
Header Image: Video surveillance camera. Source: Mike Mozart via Flickr.