What is radiological terrorism, and how is it different from nuclear terrorism?
Radiological terrorism is the deliberate use of radioactive material to expose people to radiation and/or to contaminate an area with radioactivity. Terrorists could use a radiological dispersion device (RDD), a radiation exposure device (RED), or sabotage a nuclear facility.
A radiological attack would be far easier for terrorists to execute than a nuclear attack, but could not cause similarly catastrophic levels of damage or casualties [i]
One of the most significant impacts would be the fear of radiation triggered in the population by such an event, possibly resulting in mass panic [ii]
A radiological attack could also result in immense economic disruption. Commercial and residential activity in the affected area would likely cease, and depending on the scale and location of the attack, time-consuming and costly cleanup could be required. [iii]
What are radiological dispersion and radiation exposure devices?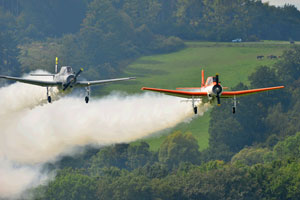 A radiological dispersion device (RDD) is designed to spread radioactive material. The terms RDD and "dirty bomb" are often used interchangeably; however, they are not the same. A "dirty bomb" is one type of RDD, which uses a conventional explosive to scatter radioactive material. Other types of RDDs may not use explosives. For example, an agricultural spray aircraft dispersing aerosolized radioactive materials could be used to contaminate the water supply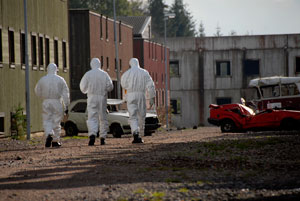 A radiation exposure device (RED), sometimes referred to as a simple emission device (SED), employs radioactive material to expose passersby to harmful levels of radiation. An RED might not be detected for a significant period of time, and could cause numerous fatalities depending on the amount of radioactive material, proximity to the victim(s), and exposure time.
Are terrorist groups interested in carrying out radiological attacks?
Yes. Al-Qaeda and terrorist groups in the North Caucasus are known to have considered radiological attacks.
In 2002, José Padilla, an alleged Al-Qaeda operative, was arrested for planning to explode a "dirty bomb" in the United States [iv]
In January 2003, British intelligence officials reportedly found documents indicating that Al-Qaeda had built an RDD in Afghanistan [v]
Chechen separatists buried a small container of radioactive material in a Moscow park as a publicity stunt in 1995. Another RDD was later discovered and disarmed by Russian security forces in 1998. [vi]
These and other groups have also considered sabotage of nuclear facilities.
Other violent non-state actors and disgruntled employees have committed nuclear sabotage on more than a dozen occasions. [xii] Although none appear to have been undertaken with the intent of releasing radiation, they highlight the potential vulnerability of nuclear facilities.
How difficult would it be for terrorists to acquire radioactive material, and construct a radiological dispersion or radiation exposure device?
The type and quantity of radioactive material needed, as well as required technical capabilities, would vary. As with an improvised nuclear device, acquiring sufficient quantities of appropriate radioactive materials would be the most challenging step for terrorists.
In contrast to nuclear materials, other radioactive materials are used in almost every country for a wide variety of commercial, industrial, medical, and research purposes. According to one estimate, "[radioactive] sources big enough to pose a danger exist in over 13,000 buildings in over 100 countries" [xvii]
Of the thousands of radioactive materials that exist, only a small number are considered to pose high security risks, due to characteristics such as half-life, radioactivity, portability, and dispersibility [xviii]

Americium-241, cesium-137, cobalt-60, and iridium-192 pose the greatest risks due to their widespread use in civilian applications [xix]
Several other materials are used in quantities sufficient to make an RDD, including: californium-252, curium-244, plutonium-238, plutonium-239, polonium-210, radium-226, selenium-75, strontium-90, thulium-170, ytterbium-169, and spent fuel from nuclear reactors
Cesium-137 is of particular concern since it is most commonly found in the form of powdered cesium chloride, making it easy to disperse. [xx]

To identify suitable materials, terrorists would need to have some technical understanding of radiation and radioactive materials. Handling highly radioactive materials safely is non-trivial, and even suicidal terrorists would need to protect themselves from lethal doses of radiation prior to any planned attack.
There are several pathways terrorists might employ to acquire radioactive material, on which preventative policies could focus.
After acquiring the necessary radioactive materials, terrorists would be capable of constructing an RDD or RED:
To construct an explosive RDD, terrorists would require "only a basic understanding of explosives, a characteristic common to most terrorist organizations" [xxviii]
An RED would be even easier to create than an explosive RDD, since it would only need to be hidden in a populated area to cause harm [xxix]
Radiological attacks involving airborne dispersal or the contamination of water or food supplies would likely require terrorists to possess sophisticated technical skills, as well as larger quantities of material. [xxx]
Could terrorists or other violent actors sabotage a nuclear facility?
The 9/11 attacks raised serious concerns that terrorists might use airplanes to strike nuclear facilities. Terrorists could, however, pursue additional methods of nuclear sabotage, including commando-style raids, insider collusion, truck bombs, or cyber-attacks [xxxi]
While large nuclear power plants are most commonly associated with the risk of sabotage, other nuclear facilities could also be targets of sabotage, including storage sites housing spent reactor fuel or high-level waste, reprocessing plants, and certain research reactors  [xxxii]
A successful act of nuclear sabotage would likely be harder to carry out than an RDD or RED attack, but substantially easier than an attack involving a nuclear weapon [xxxiii]
Nuclear sabotage is challenging primarily because terrorists would require detailed knowledge of a nuclear facility's design and operations to carry out a successful attack. Therefore, collusion between terrorists and employees at nuclear facilities with insider knowledge is of particular concern [xxxiv]
Sources